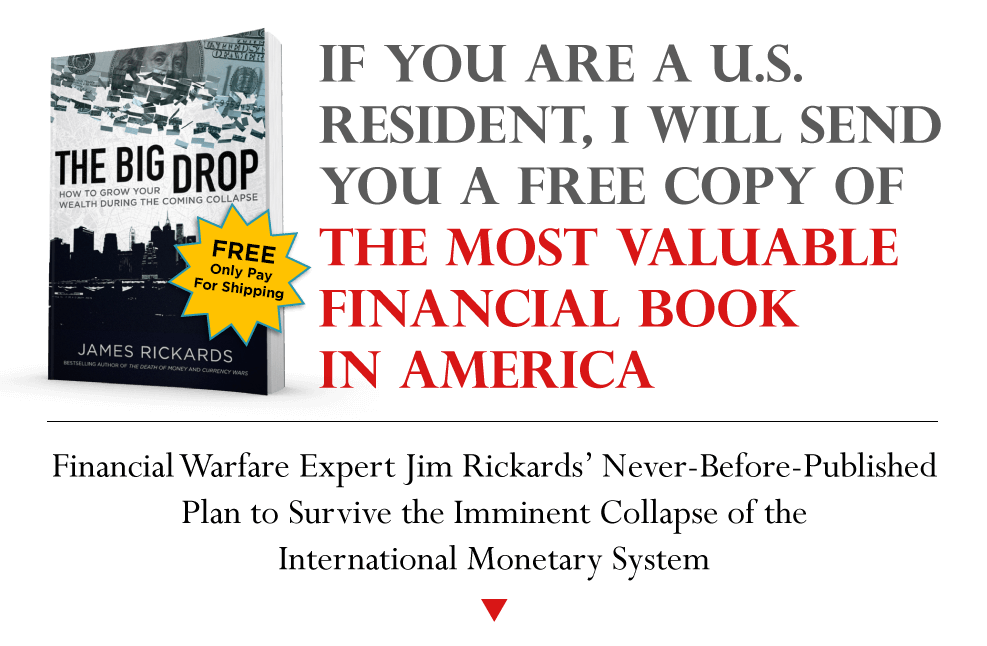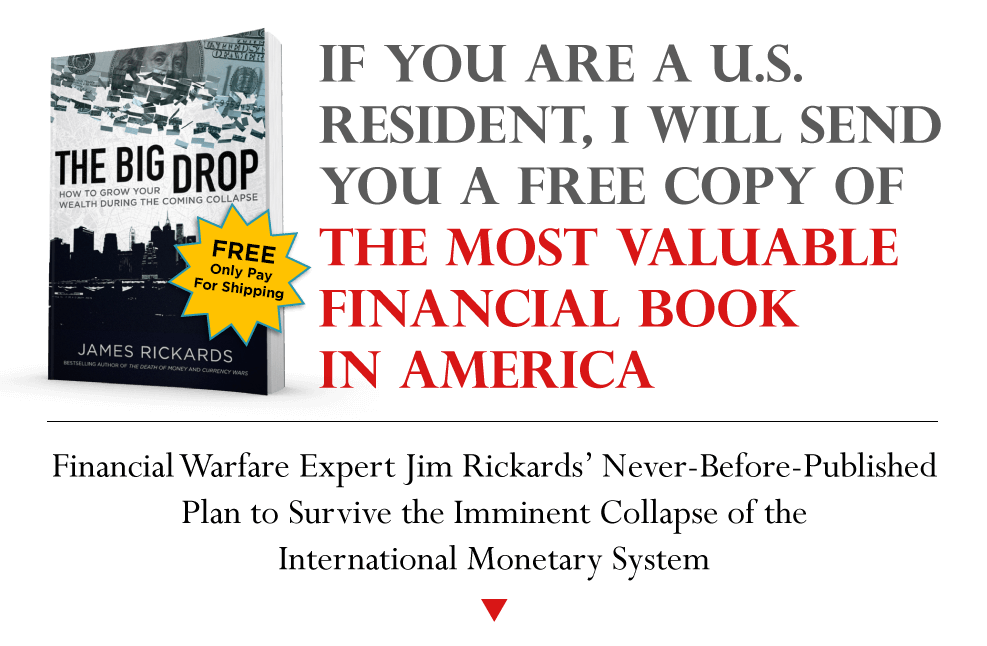 Dear Fellow American,
If you are an American or own any assets priced in U.S. dollars, then you absolutely MUST know what's revealed inside Jim Rickards never-before-published book, "The Big Drop: How to Grow Your Wealth During the Coming Collapse".
In it, you'll get Jim Rickards' complete blueprint for how to shelter your savings, safe-guard your wealth, and prepare yourself and your family for what could be the biggest financial crisis that America has ever faced ...
That's why, as part of a nationwide push to warn and prepare as many Americans as possible, I'm offering this never-before printed manual absolutely FREE to any U.S. resident with a valid mailing address. Plus, you'll receive five more free gifts (as long as this offer is valid).
More on exactly how I've managed to arrange this in just a moment, but first ...
Who Is Jim Rickards and Why Do I Believe His Book Is So Valuable I'm Willing To Send It To
You FREE?
While most people know Jim Rickards as a two-time New York Times best-selling author (or have seen him on TV), his experience actually spans 35 years on Wall Street.
In the late 90's, after the famous meltdown of the Long Term Capital Management Hedge Fund, Jim was the expert the Federal Reserve turned to save the entire financial system from collapse.
Less well known is Jim's extensive work within the government where he's been an advisor to the Office of the Director of National Intelligence – that oversees the NSA, the CIA, and 14 other U.S. intelligence agencies .
In fact, after September 11, he was recruited by the CIA to develop a program to investigate stock market signals that could identify terrorist activities before they occurred (like the bets against airline stocks before 9/11).
His intelligence work there successfully predicted a major terrorist event in London just days before the attack (thankfully, Scotland Yard thwarted the attack and saved hundreds of lives).
Because of his deep knowledge of international banking and the interplay of world currencies—the Pentagon called him when they conducted their first ever financial "war game." Jim's role was to advise our intelligence agencies on how America could defend against other countries launching covert financial warfare attacks against the US banking system.
At least a year before the 2008 crisis he was telling anyone who would listen that there was trouble and instability in the system ... of course he was right then ...
And in short, he's now predicting the worst financial crisis that America—and the world—has ever seen.
You know the phrase "too big to fail", but now the entire financial system—including the Federal Reserve—is more fragile than ever before ...
Remember the "too big to fail" banks? Consider this ...
The four biggest banks are now over 30% larger than in 2007 ... and ... the five largest banks hold more than HALF of the total banking assets in the United States.
That means they're even more interconnected (meaning if one fails, the rest will fail too like a series of dominos) ...
The U.S. Government has racked up an enormous debt – over $18 trillion dollars – DOUBLE the amount of debt that was present before the 2008 fiasco ...
Derivatives—what Warren Buffet once called "financial weapons of mass destruction"—are now worth more than $700 trillion (that's ten times bigger than the ENTIRE world economy!)
In 2008, when over $60 trillion in wealth was wiped out, the Federal Reserve was able to bail out the system ...
They expanded the money supply over 300% by running the printing presses overtime in a desperate attempt to prop up the system with new dollars ...
But because there's more fragility ... more debt ... more derivatives ... more leverage ... the effects of the coming crash will be exponentially multiplied—so much so that even the Federal Reserve itself will need a bailout.
In other words, this will be a global financial crisis because even the U.S. government will not be able to solve these problems.
There will be a devastating stock market crash – this expert's data shows at least a 70% loss, practically overnight ...
One in every two IRA's will be set ablaze ...
And ultimately, the U.S. dollar will lose its coveted status as the world's reserve currency as up to 80% of its value evaporates.
Keep in mind, when the dollar tanks—any investment priced in dollars drops too—stocks, bonds, pensions, money market funds, social security, and dozens of other popular investments.
The Good News Is It's Not The End of The World and You Can Not Only Safeguard Your Wealth But Even See Once-In-A-Lifetime Profits As The
Crisis Unfolds ...
Jim Rickards insists that while his warnings are serious, and the situation is beyond all repair, that there is no need to panic.
Jim's not one of those so-called "preppers". He's not buying a bunker and going into hiding. Quite the opposite, in fact.
He actually explains that the international monetary system has collapsed three times before…
Once in 1914, again in 1939 and once more in 1971. That's three collapses in 100 years ... they appear to happen about every 40 years ... and it's been around 40 years since the 1971 collapse.
In Jim's words, four decades seems to be the "operating life" of the international monetary system.
His point is it's important to realize this is not the end of the world. Life went on after each collapse. But each time, the financial "rules of the game" were rewritten.
Now… 40 years from the last collapse… the international trading centers are quietly rewriting the "rules of the game" once again—and the U.S. dollar will no longer hold its coveted spot as the world's reserve currency.
No matter what happens in the world—through great disasters and extreme crisis—there are always people who not only survive ... but thrive.
Says Jim…

When you look at America's hardest times—the Great Depression and World War II for example—there were always a few who made fortunes because they saw the crisis coming and took the right steps beforehand to prepare.
For example, Oil man J. Paul Getty bought depressed oil stocks during the Great Depression—adding millions to his fortune and by 1957 was named the "richest living American" by Fortune magazine ...
That's why I've just compiled a new 263 page book of Jim's never-before-published work to show you the exact steps he's using to protect his own wealth and how you can do the same. It's not available in any book store (including Amazon), and it's definitely not online at any price ...
And If you provide me a valid U.S. mailing address, I will send you Jim's Book,
FOR FREE.
My only request is you pay a reasonable $4.95 to help with the costs of shipping & handling.
My name, by the way, is Addison Wiggin.
I'm the executive publisher and founder of Agora Financial, an independent research firm with more than 700,000 readers around the globe.
You may know me from my New York Times bestselling books, Financial Reckoning Day,Empire of Debt and Demise of the Dollar.
But here's the important part: I haven't been this concerned about a worldwide market meltdown since 2008, and I believe so strongly that Jim's new book can help you survive, that I want to give it to you FREE (all I ask is you help with the costs of S&H by paying a reasonable $4.95).
Inside you'll discover ...
How to (almost) instantly judge the safety of your bank. Plus, a comparison of local community banks, mega-banks, and credit unions (if you keep any cash at all in your bank account, please read this).
The financial warfare plan that could bring the United States to its knees (the real story is how it affects you and your savings if you own any traditional investments like stocks & bonds)
Why you should NOT worry about whether we will have inflation or deflation (and what to do instead that will safeguard your money—and earn a nice return—no matter what happens)
What you should know about the price of oil and why it's not always better to pay less money at the pump (surprising but true!)
The former Treasury Secretary of the United States and his plan to have the Government simply deduct the money they want from your bank account every month. The top 20 biggest governments on earth—including the United States—are seriously considering this strategy as a way to deal with their debt.
What you should know about Warren Buffet and how he seems to be betting against the dollar, even though, his company Berkshire Hathaway holds over $50 Billion in cash. He seems like the all American success story who is rooting for US stocks, but what he is actually investing in tells a different story.
One investment that gives you physical ownership of gold, silver, platinum and palladium all in one (The best part? It gives you higher returns with less volatility than if you owned all the metals individually)
What you must know about the risks of holding a large portfolio of stocks (Jim says stocks could drop by 3,000 points or even more and recommends you do this to protect yourself).
And much, MUCH MORE ...
... So much more in fact, that I don't have the space to explain it all here.
That's why, instead of me trying to convince you about how crucial this information is for you and your family— I've arranged it so you can see it all for yourself first, before you make a decision.
In other words, instead of asking you to trust me when I tell you how great this book is ...
I'll put my trust in you first, by giving you this valuable book FREE, so you
can make up your own mind ...
I can do this confidently because I know the value of this information. I believe in Jim's work so completely that I've started taking the steps he recommends inside this book for my own family (and it's why I'm absolutely convinced it can help you too).
And that's why I want to offer you a copy of this book free. Again, all I ask is you invest just $4.95 to help cover the costs of shipping the book when it's published.
But also, because I want you to be as prepared as possible, I want to send you five more special gifts when you reserve your copy of The Big Drop: How to Grow Your Wealth During the Coming Collapse today ...
FREE GIFT #1: Research Report: 30 Snowflakes That Could Trigger The Next Financial Avalanche. Jim Rickards says most people he talks to about the problems in America today tell him they understand that the current system can't continue forever, but they always ask two important questions:
1.) When will the collapse happen?

~and~
2.) What will cause it?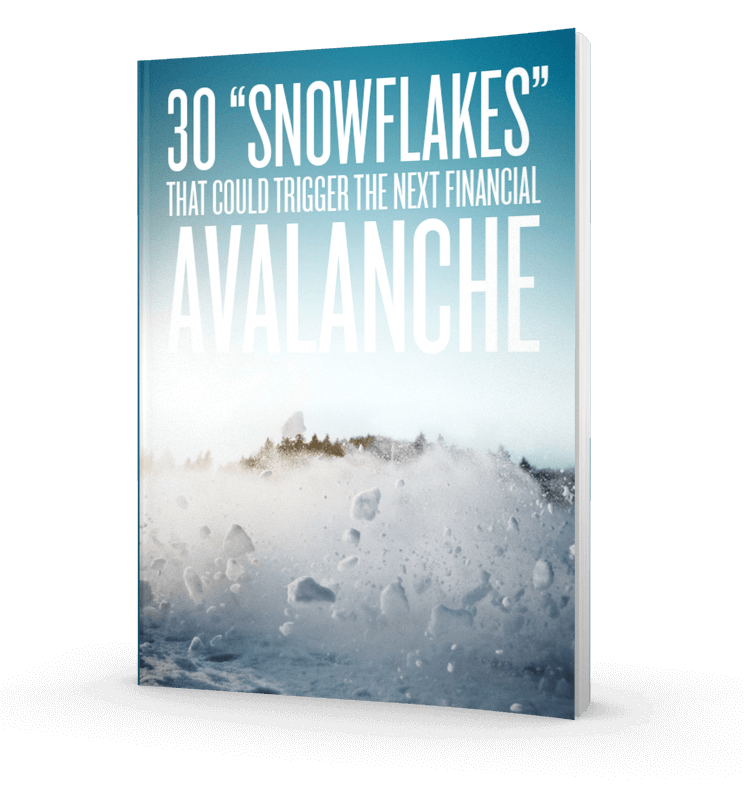 In this report, Jim shares the top 30 events that he thinks could trigger the collapse. Simply reading the first page and a half will set your mind at ease if you've ever asked yourself these same two questions. And you'll be filled with the confidence to prepare now (before the financial avalanche).
FREE GIFT #2: Research Report: Three Investments That Will Jump 100% In The Next Crisis. What most people don't realize is that the Federal Reserve won't be able to print enough money to cover this next financial crisis.
That's because the financial collapse will be bigger than 2008. And Jim says the stock market could drop 80% or more ... but the good news is there are a few, select investments that will actually go up while the market is melting down. For example, you'll discover ...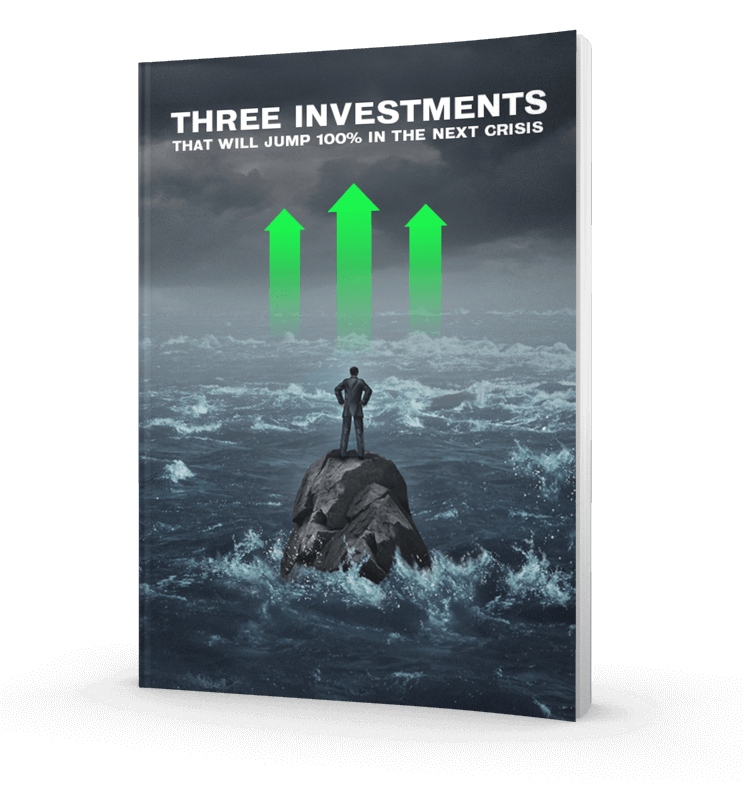 ** An easy way to make 80% in the next crisis (during the last crisis when the S&P dropped about 50%--this investment went up 75%. That means it's all but guaranteed to soar 80% during the coming collapse.)
** An "insurance investment" that could jump 500% during the crisis. This company went public in December 2007, right before all hell broke loose. Yet while the S&P was losing half its value, investors in this unique company doubled their money. Overall it's up over 250% since it started trading and Jim expects it to perform even better during the collapse.
FREE GIFT #3: Research Report: 50 Ticking Time Bombs Waiting To Demolish Your Portfolio. If you invest in stocks you absolutely MUST get this report and check your portfolio immediately for the companies listed inside.
Owning even just one of these 50 common stocks is like holding a ticking time bomb in your portfolio. The good news is, with this exclusive report from Jim Rickards, it's easy to protect yourself. Step 1: read the report. Step 2: decide if you want to sell any of the 50 stocks you see listed here. Step 3: sleep easy at night knowing your investments are protected from the collapse.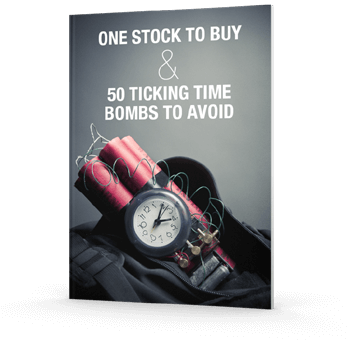 FREE GIFT #4: The Jim Rickards Strategic Intelligence Video Series . Just minutes after you order, you'll receive access to a 10-part welcome series of videos where we asked Jim Rickards all the questions you need to know to get up to speed. Think of it like a "fast track" introduction course you can watch even before you start reading Jim's manual.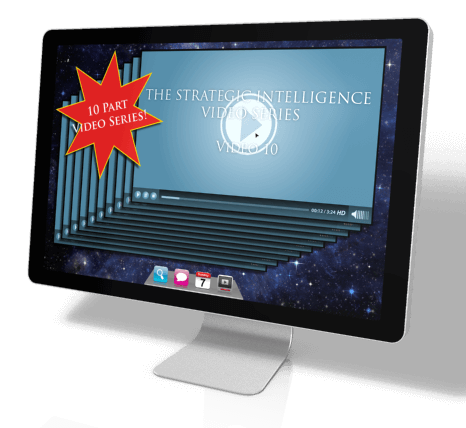 FREE GIFT #5: 30-Day Trial To Jim Rickard's Strategic Intelligence.: Because I believe you need more than just a manual to survive the coming collapse, I'll also include a 30-day trial to Jim Rickard's ongoing help and assistance through his monthly newsletter—Jim Rickard's Strategic Intelligence.
In Jim's monthly newsletter called Strategic Investments, you'll receive regular updates on the state of the market ... what the world's currencies are doing ... how the central banks are manipulating currencies and what it means to your investments ... along with what changes to make to your portfolio as the financial avalanche starts to slide.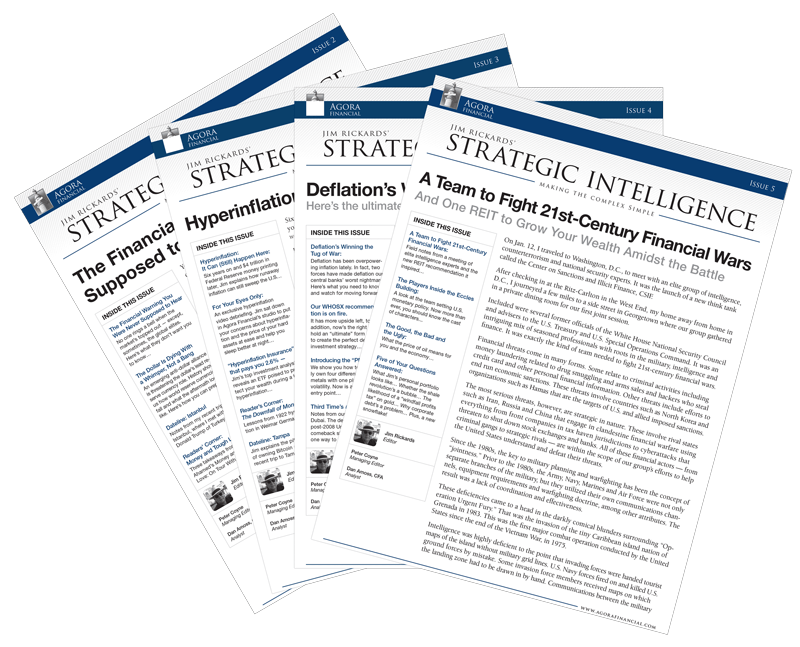 So that's five free gifts: the three research reports, the entire 10-part strategic intelligence video series, and a 30-day trial to Jim's monthly newsletter. And as I said, you can have all these gifts for no cost.
It's important to remember that you must stay nimble during these uncertain times because nobody can predict the future ...
That's why having Jim's work delivered to you each and every month will allow you to stay ahead of the changes so you can protect and grow your savings even as the worse unfolds (before most other investors even have a clue).
If what Jim says makes sense to you, then great, we hope you'll continue to receive his newsletter in the future ...
If not, then you can simply cancel with no hard feelings.
But at least you will have gotten a chance to see Jim's work ... to read his warnings about the currency crisis ... and to get his best analysis to know how to prepare your family.
By saying yes today you'll get the book, the 30-day trial to Jim's Strategic Intelligence newsletter, and five free gifts. And you are under no obligation to buy anything else from Jim or I in the future.
I'm giving this package away free (and actually losing money) for two very important reasons.
Number one, because I've spent practically my entire working career trying to warn other Americans about the troubles in our financial system through my best-selling books and other research ...
Now, I'm trying to warn millions more Americans to prepare for the next drop.
And number two, it's my sincere belief that once you see Jim's excellent research and how it's everything I've promised you (and more), that I'm betting you'll want to hear from us long term and that we can very soon count you among one of our 700,000 subscribers.
The truth is: the $4.95 I'm asking you to cover will only pay for a portion of the costs to send you this package. That means I'm actually losing money for each person that requests these free gifts. For that reason, it's important to note that your $4.95 shipping fee is non-refundable.
But I'm willing to lose money on the effort because I believe so strongly in what Jim has to say, and that it can truly help you prepare for what's to come. And I believe it's the most effective way to get this info into your hands, so you can make the final decision to decide if it's worthy of your money.
The bottom line is:
You can get all the information you need in Jim's book The Big Drop: How to Grow Your Wealth During the Coming Collapse And because I want you to be able to prepare as soon as possible, I will send you a FREE digital eBook copy the moment I hear from you (along with access to your FREE trial, and all five bonus gifts)…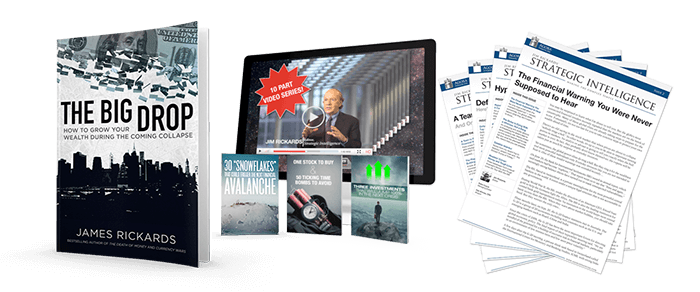 Claim your free package today by clicking the "order now" button below.
When you click the link below, you'll be taken to a 100% secure order form where you can review your order and tell us where we should send your free package.
(Clicking the order button does not commit you to anything, you will simply have a chance to review your order.)
Again, you'll receive digital copies of everything – in just a few minutes from now – even if it's 3:00 AM on a Sunday—immediately after you place your order.
Then, very soon after, a printed version of The Big Drop: How to Grow Your Wealth During the Coming Collapse will be sent to your postal mailing address.
Thank you for reading this message,
Sincerely,

Addison Wiggin
Co-Founder, The Daily Reckoning
New York Times Best Selling Author
November 2015
Subscribe Now